A Regimental history of the 1st New South Wales Mounted Rifles in the Boer War (1899-1902)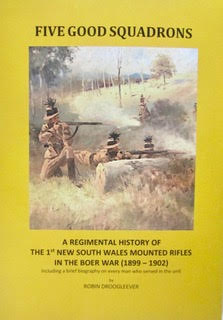 The five squadrons that constituted the 1st Regiment of the New South Wales Mounted Rifles which joined the British campaign in South Africa in 1900 were initially a mix of trained militiamen, supplemented two months later by volunteers who were prepared to 'give it a go'. Accepted on the basis of whether they were healthy and could ride and shoot, they were made up of professional soldiers, farmers, landowners, labourers, students, teachers, policemen, gentlemen of leisure, railway and tram workers, unemployed men, and those who had crossed the law. Over 600 served. More than 50 never came home. The regiment played a significant role in the course of the campaign and were described by one British Commander as 'The finest mounted infantry material in the world'. Their reputation in the Boer War had an impact on the development of the Light Horse Brigades that went on to serve Australia so well in the First World War.
The book covers not only the campaign history of the regiment but there are 185 pages of biographies of all the men who served. There are also 150 pages of photos, most of which have been generously donated by descendants, and which provide a wonderful panorama of social life at the turn of the 20th century.
Included in the book are details about three Rylstone lads: John Larkin (born in Rylstone in 1877); John Hector McLean (born in Rylstone in 1877), and Prince Richard Taylor (born in Rylstone in 1876). There is a fourth, Walter Pope, who died in Rylstone in 1946 but there currently little known of the extent of his involvement in Rylstone.
Now the cost: $60 plus postage of $12.50 in the Australia Post medium sized red bag which is waterproof and can be tracked. Total: $72.50. Not only do Australia Post seem to give priority to their red bags it is definitely the most secure way of despatch.
Payment can be through Direct credit to my bank account which I will provide upon requests for the book. An alternative form of payment is in the form of a cheque made out to Robin Droogleever and sent to P.O.Box 42, Bulleen, 3105, Victoria.
Contact: Robin Droogleever on email at jerwfd@optusnet.com.au or phone on mobile 0455-346-777 (or feel free to use the P.O.Box number).