Visitors travelling from the Blue Mountains to the Rylstone Kandos Show on the weekend had extra motivation to make the trip, with the opportunity to take the Rylstone Rambler on the rail line from Lithgow to Rylstone.
The train trip was organised as a fundraiser by the committee of the Kandos Museum.
Travellers enjoyed the scenery of the Capertee Valley, made new friends on board, and in some cases made their first trip to Rylstone in a most unique fashion.
Helen Overmyer travelled from the mountains, and on the way met Mudgee's Carol Eade, discovering that the two women had something in common as wives of devoted train enthusiasts.
Mrs Overmyer's husband Steve worked on the restoration of the visiting train as a member of the Lithgow State Mine Railway.
She said the trip had been fabulous, particularly the magnificent scenery along the way.
Mrs Eade agreed the rail line provided a totally different view of the countryside and a much more relaxing way to travel.
The Overmyers spent the day at the Rylstone Kandos Show and explored the town, enjoying the old stone buildings before boarding the train to return home.
The Rylstone Rambler will return on April 2 for the Kandos Garden Fair, with the train ride including a country luncheon at the Kandos Museum.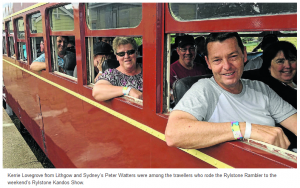 Source: Mudgee Guardian, newspaper article, http://www.mudgeeguardian.com.au/story/3756677/riders-revel-in-rylstone-rambler-rail-journey/, accessed 29 February 2016.