A headstone has been damaged beyond repair after trespassers attempted to drag it from Rylstone Cemetery with a car.
Mudgee police said the senseless act of vandalism occurred some time between Wednesday, February 17 and Friday, February 19 at the cemetery on Narango Road.
"These offender/s have wrapped a chain around the headstone and using a vehicle have pulled the headstone forward a short distance causing damage to it," police posted to their Facebook page.
"The headstone weighs almost one tonne so it would be expected a large vehicle such as a four wheel drive or small truck was used. This senseless action has caused the coffin to be partly exposed."
Police said the damaged headstone cannot be fixed and is valued at $2800.
"Police have to attend and deal with all types of incidents in the course of their duties, some of which could be called pretty low. But this can only be described as disgusting – one of the lowest acts many of us have ever seen."
Followers of the Mudgee LAC Facebook page were disgusted.
One woman wrote: "This is really upsetting. To vandalise someone's final resting place is lower than low. What saddens me is that this is what the world's come to."
Another said: "Beyond words. This is lower than a low life, how sad a person could even think to do such a thing, let alone do it."
Others said: "Beyond words…. Absolutely awful", "Disgraceful and disrespectful", "So horrible have some respect".
Many called for CCTV to be installed at the cemetery.
Anyone with information about the crime is urged to contact Mudgee police on 63728599 or Crime Stoppers on 1800 333 000.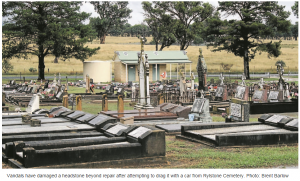 Source: Mudgee Guardian, news article, http://www.mudgeeguardian.com.au/story/3801876/vandals-attempt-to-pull-headstone-away-with-car-at-rylstone-cemetery/?cs=1233, accessed 23 March 2016.